Connect Process ID Change and Daily Log File Aggregations
13 Jan 2023

1 Minute to read
Connect Process ID Change and Daily Log File Aggregations
Updated on 13 Jan 2023

1 Minute to read
---
Share feedback
Thanks for sharing your feedback!
RapidIdentity Connect Process ID Changes
Affective with RapidIdentity Cloud 2022.12.8 and RapidIdentity LTS 2023.0.0, RapidIdentity Connect Process IDs will be changing format from: 'YYYY-MM-DD-HH_MM_SS.SSS' to: 'YYYY-MM-DD/YYYY-MM-DD-HH_MM_SS.SSS'.
This change is required to resolve UI performance issues encountered when displaying a significant number of Connect Log Files, which uses the Process ID for the log's file name.
This change also results in the aggregation of Connect Log Files into daily folders, which resolves the loading issues and makes it easier to work with Connect job logs.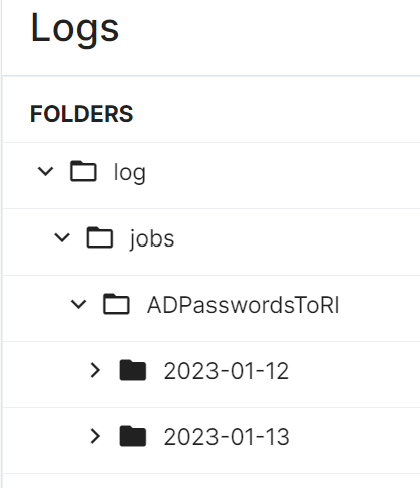 NOTE:
These changes could cause action sets utilizing the built-in: 'getProcessID' action to malfunction depending on how the process ID is used.
For Example: if the process ID is being inserted into a database, it could error if the DB column does not support the length of the new format. To remediate this type of issue, the connect action should be updated to use a string split on '/' for the new process ID format where the second item resulting from the split yields the process ID in the old format.
---
Was this article helpful?
---
---