Release 2022.10.27 - What's New
30 Nov 2022

2 Minutes to read
Release 2022.10.27 - What's New
Updated on 30 Nov 2022

2 Minutes to read
---
Share feedback
Thanks for sharing your feedback!
Release 2022.10.27 - What's New
This document is intended to provide you the information and details about the new features and important changes in the 2022.10.27 release of RapidIdentity Cloud.
Notable Enhancements and New Features:
Group SSO Applications into Folders in Rapididentity GO! View (SSO Portal)
Test Connections to Rostering Target Applications in Studio
Subscribe to Individual Job Notifications in Studio
Pendo Resource Center Icon added on UI
1. Grouping SSO Applications into Folders
This new feature provides the ability for RapidIdentity GO! View (SSO Portal) users can easily group specific applications together into folders. As is the case with other personalizations, this feature is enabled by tenant administrators in the SSO Portal Configuration section of the RapidIdentity GO!.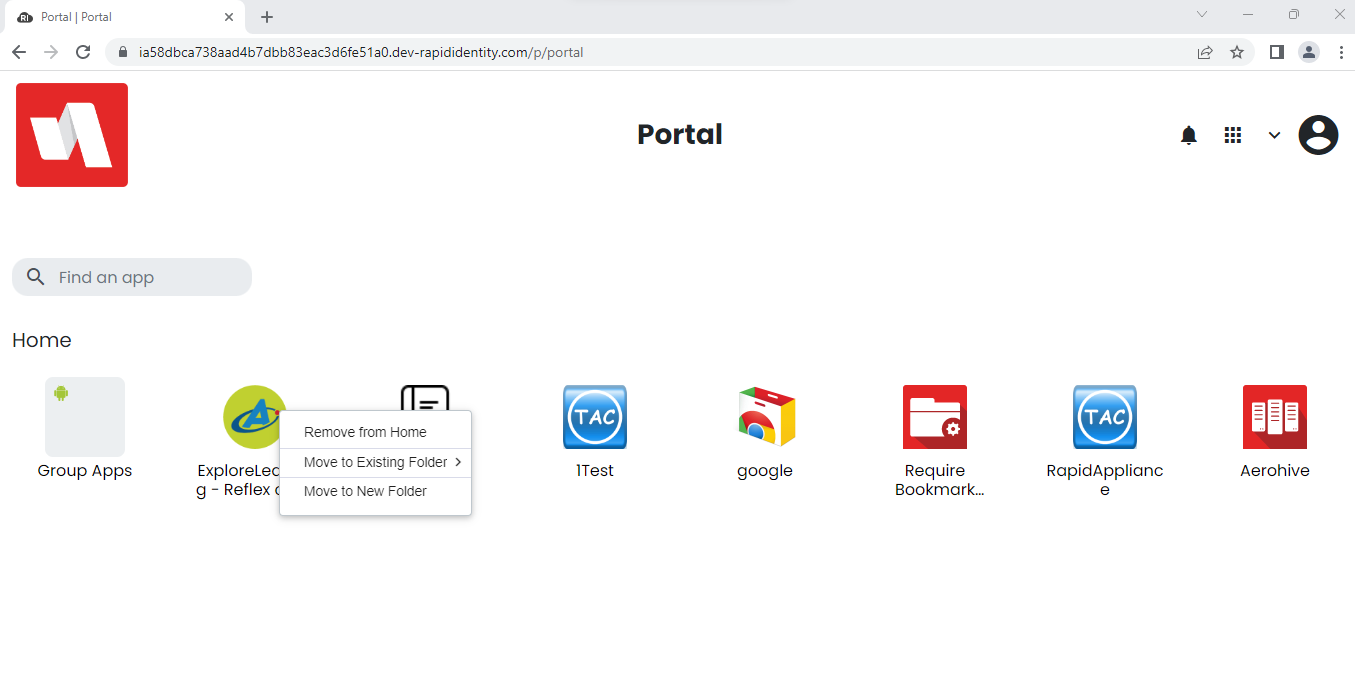 2. Testing Connections in Studio
This new feature provides the ability for Studio Administrators to confirm that the connection settings for new applications are valid. This removes the extra step of having to run a job to check if it is working or not.
A blue "Test Connection" button has been added on a Studio application's Connection Settings tab. Once the Configuration and Credential sections are complete, the Admin can click on Test Connection button to verify the connection. A green 'Success' notification will appear at the top of the page for properly configured applications. A red 'Warning' notification will show if there are any issues detected, and will have an accompanying informative error message.
3. Subscribing to Job Notifications in Studio
This new features provides the advantage to users to subscribe only the job notifications they want to get notify for, when the jobs get failed, any approval required, cancelled or succeeded instead of getting all the notification.
To Enable the notification for a particular Job, a user can add the email address in the Email Recipients option by clicking the edit button under Email Alerts.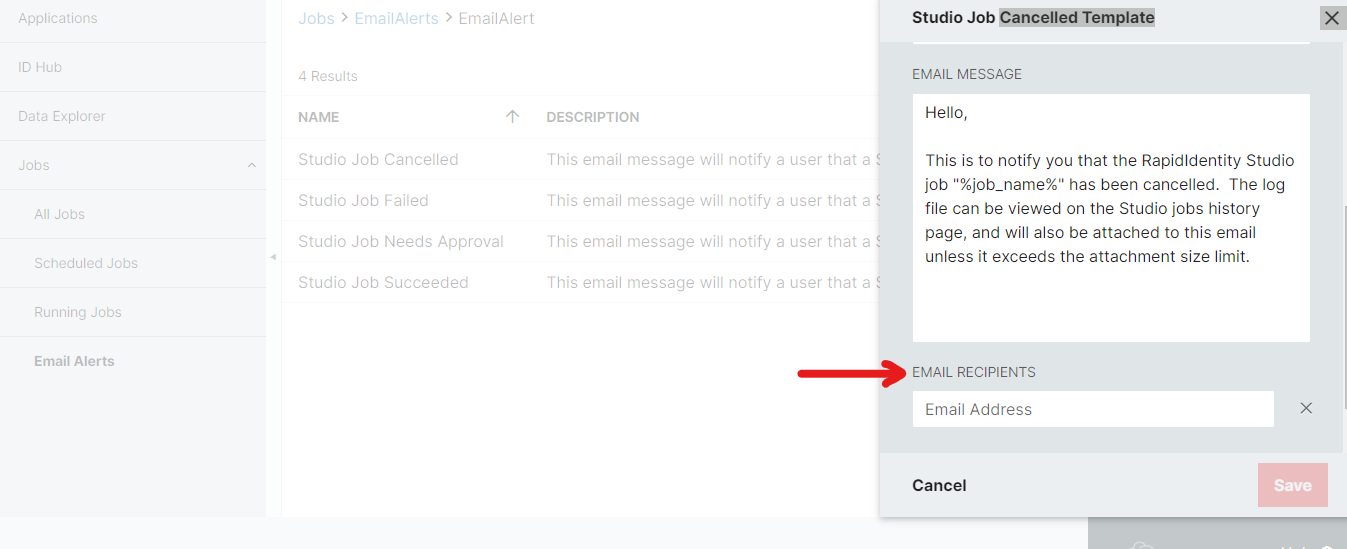 4. Pendo Resource Center Icon added on UI
To provide the better experience and support to RapidIdentity users, RI Application UI has been updated with the Pendo Resource Icon wherein user can raise the concerns and also seek contextual help by accessing RI Product Guide to understand the modules and their workflow.
The Pendo Resource Icon will be visible on the very right corner of Notification Box in the application only when the browser window size is higher than 1200PX.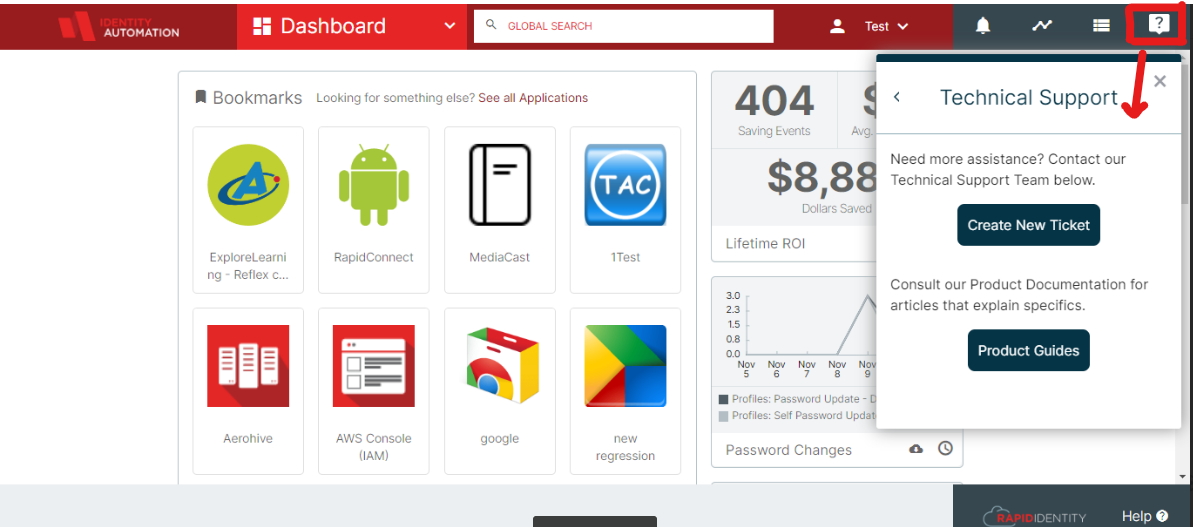 Significant Issues Resolved
1. Proxy As Session: CheckBox Option Removed
During Proxy As session, checkbox option has removed for selecting applications in My Application module, hence the option will not visible to users for both list and grid view.
The checkbox only visible to users while working on regular sessions. [RIC- 1938]
Regular session screen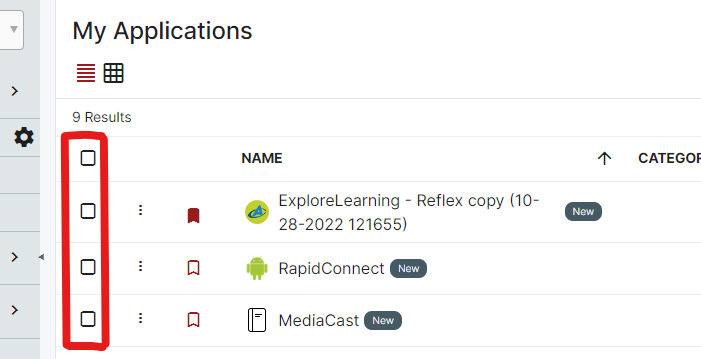 During Proxy As session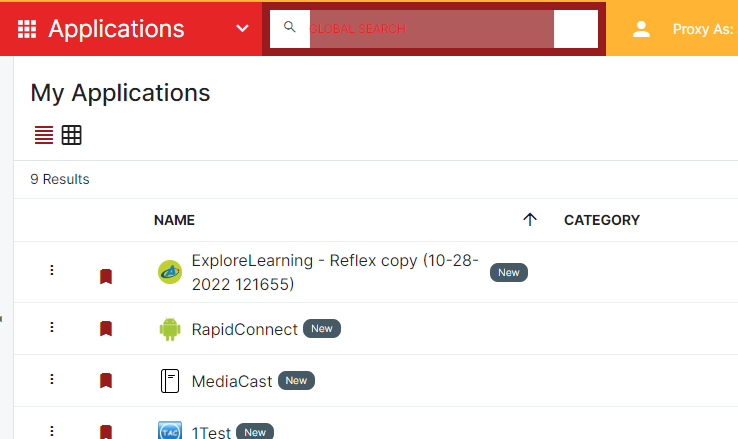 2. Password Expiration settings removed from Authentication policies
In Authentication Policies, The 'Enable Password Expiration Alert' and the 'Expiration Alert Days' fields has removed. Only Enabled checkbox will be shown to Admin users. [RIC-1916]

3. Navigate back to Configuration via Dropdown menu
Now, you can directly navigate back to a configuration module while working within a section by using dropdown module menu. Earlier going back to configuration module was only possible through hitting the back button which is present on the bottom left corner of the screen. [RIC- 1985]
---
Was this article helpful?
---
---
What's Next