Making Requests in RapidIdentity
16 May 2022

1 Minute to read
Making Requests in RapidIdentity
Updated on 16 May 2022

1 Minute to read
---
Share feedback
Thanks for sharing your feedback!
Occasionally, you will need to access a level of permissions or applications that you normally do not have access to for a short period of time. In RapidIdentity, these are known as Entitlements.
An Entitlement represents short-term access to higher level permissions that must be approved and granted by an administrator or manager.
Each request from the catalog is configured by an administrator-level user and available to those with the permissions to request it. To access an Entitlement, navigate to the Requests module. If you have no active Entitlements, it will show No Entitlements Found.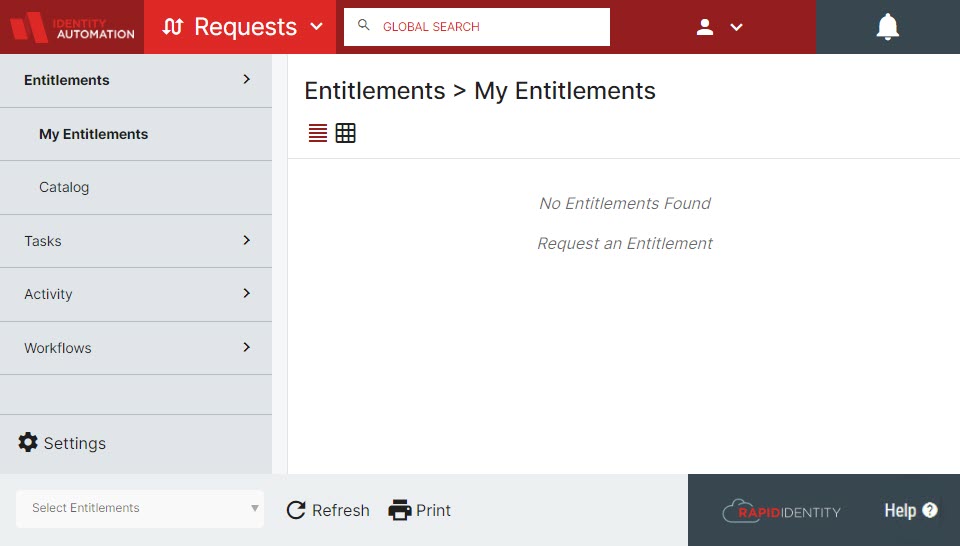 Making a Request
Navigate to the Requests Catalog. Any entitlements that you have the permissions to access will show in this list.


To make a request, select the specific Entitlement you would like access to and click the Request button in the Action bar.


For Entitlements that require manager or administrator approval, they will show as Pending until the Entitlement has been approved.


The approver will see a Task in the right pane with an alert on the notification bell.


Once approval has been processed, the Pending icon will turn into a green check mark for as long as the user has access to the Entitlement.

---
Was this article helpful?
---
---
What's Next